Banned from California
-Jim Foshee-
Persecution, Redemption, Liberation ... and the Gay Civil Rights Movement
The life of Jim Foshee
---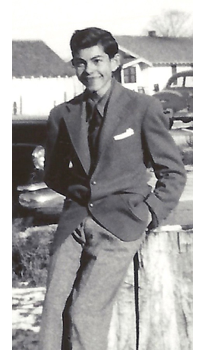 Be transported back 70 years. This is the true story of a 15-year-old gay runaway who finds himself in the 1950s Los Angeles underground world of homosexuals and early queer culture. Experience Jim Foshee's adventures on the West Coast after hitchhiking from his home 800 miles away from a small Idaho town. Jim lives on the edge. Through his adventures and misadventures, he finds himself among kind-hearted strangers, kindred souls and drag queens as well as con artists, liars and ruthless cops.
At a younger age, Jim is institutionalized:
placed in an orphanage by his mother;
sentenced to a reform school because he runs away so much; and
committed to a mental hospital for diagnosed "sexual deviation and sociopathic personality."
Jim just wants to break away and live a simple gay life, but his destiny first includes run-ins with authorities, incarceration, and toiling on a prison chain gang. Be ready for a unique and personal journey you won't soon forget. Jim's vivid remembrances paint a first-hand intimate portrait of times now gone—times of McCarthyism, government hunts for homosexuals and routine firings; but also times of the beats, the hippies and liberation protests.
Experience this exciting part of history seen through the eyes of this gay American.
This biography is an intimate portrait of gay life in the 1950s and beyond into a new millennium. It takes readers on a unique and personal journey through a part of American history experienced by Jim Foshee.
Purchase Options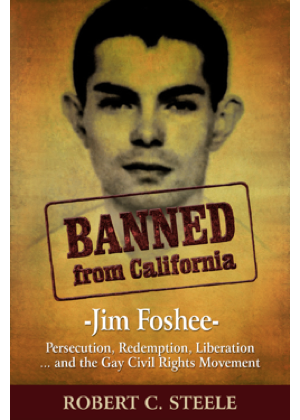 Paperback or Hardcover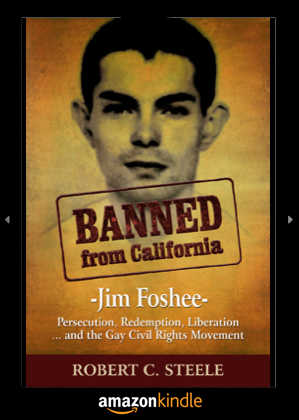 Kindle eBook
Reviews
Witness From the Persecution: How One Gay Soul Lived to Tell
Banned from California, is Robert C. Steele's biography of a previously little-known gay archivist and activist, Jim Foshee. Foshee (pronounced fo-SHAY) survived considerable abuse and oppression as a gay man — including being literally tortured by his sadistic stepfather, and having to do hard labor in a Texas prison — to become a gay archivist and activist of distinction.
In the course of his travails through lands and times of unremitting ignorance and bigotry, from the 1950's to the early 2000's, Jim's life in the Western US — in Idaho, Texas, Arizona but especially in Colorado and California — unfolds with details that illuminate and expand a history of liberation too easily appreciated as a consequence of the Stonewall riots. Banned 's detailed history of gay community events and activism in Denver and Los Angeles gives dimension and breadth to this movement as emerging from a much broader confluence of individuals and events in localities across the country.
Banned is handsomely assembled, has many vintage black-and-white pictures of locales and individuals and is written with economy and clarity. Not surprisingly and though easy and comfortable to read, it is meticulously annotated. Banned from California is inspiring and edifying.
   ~ Lawrence D. Mass, M.D., cofounder of Gay Men's Health Crisis and the first to write about AIDS for the press. LDMass.medium.com/witness-from-the-persecution
---
A must-read fascinating biography
Banned from California by Robert C. Steele is a fascinating biography. In the spring of 1954, 15-year-old Jim Foshee left Ketchum, Idaho on foot and hitchhiked his way through Utah and Nevada to reach Los Angeles, a place that his church parishioners believed was full of "queers and fruits." Jim thought, "That's the place for me!"
This author's retelling of Foshee's childhood is creative, descriptive, and impressively recaptures events that occurred 60 to 70 years in the past. Banned from California places his story within the context of the gay civil rights movement and U.S. society during the Cold War, McCarthyism, and the rise of an LGBTQ print culture.
The author also chronicles Foshee's time spent in prison for theft, and he writes a detailed account of this experience, which at times is quite graphic, and focuses on how an effeminate man that weighed only 134 pounds maneuvered the harsh reality of the Texas State Prison System.
This book is a must-read.
   ~ Nicholas Villanueva, Ph.D, Professor, University of Colorado, Out Front Magazine
---
Dreaming California: The Life of Jim Foshee
Steele draws you in with the first chapter, California Here I Come, taken out of an otherwise chronological context, describing Foshee's first of many escapes from the confines of religious and heteronormative suffocation in a small Idaho town.
In Hollywood at 15 Foshee finds himself, if not his dream, only to be arrested and expected to finger an adult who befriended him.
But for Foshee the euphoria obtained by on-the-edge existence was a smack that smote him: flagellation, ostracization, incarceration, starvation, prostitution.
Banned from California has the quality of an oral history because of author Steele's access to many interviews of Foshee that he conducted—and fact-checked. And so the book has a remarkable amount of detail; too much, some might say. There's also a fair amount of repetition. But those are minor faults in a work that is quite readable on several levels. Students of history, culture, penology, sexuality (and fluidity), consanguinity, criminology, and the politics and compassion of resistance will want to pick this up. But don't take my word for it. Steele has posted that gripping Chapter 1 on the book's website BannedCA.com.
   ~ David Hughes, The Tangent Group
---
Amazing experience. One of the best LGBT books I ever read
LIFE changing story that took me back 60 years to Arizona, California and Texas to a time when young gay men were seen as second class citizens and the American Psychological Association still considered being gay a mental illness. This book is actually a TRUE story of a young gay Jim Foshee, put into a 1960s prison chain gang and surviving the underground world being gay in the 1950s, and how Jim changed gay rights today. Kudos to the author for telling Jim's amazing story and keeping the history and struggles of the early gay rights movement alive today.
   ~ Customer Reviewer, Emmanuel, San Diego
---
Wonderful Biography
Jim Foshee was an intrepid community-based researcher of LGBT history who, long before historic newspapers and books were digitized, read through them page by dusty page, and sent me amazing discoveries, enriching my own work to recover an unknown past. I'm delighted that Jim's own fascinating, poignant history is now honored in this wonderful biography.
  ~ Jonathan Ned Katz, author, Gay American History, Gay/Lesbian Almanac and Love Stories
---
Very smooth and comfortable read
A fascinating adventure tale of a life with twists at every turn. Provocative, compelling and fascinating. What an incredibly open and honest connection with a culture that gets far too little exposure on such an intimate and personal level. Jim's story is an adventure of a lifetime but one that came with many struggles and enlightenments. The flow between the narrative and Jim's quoted messages made this such a fluid read. The photos added just the needed visuals to bring Jim's life into even greater focus. It is people like Jim and the people he shared his life with that make this book really tough to lay down.
  ~ Charles, ebay reviews
---
Compelling
This story recounts the life of a gay man born in the late 1930s. He is defiant and resilient, flawed and complicated. This touching narrative left me feeling that I belong to a lineage of older, passed, LGBT individuals who lived in the complex, troubled, gay humanity of the 1940s, 1950s and beyond—embedded with burden yet conquered through perseverance.
  ~ Dr. Ramon Silvestre, GLBT Historical Society, San Francisco
---
Banned from California: A Gay teen in the 1950s
1950s gay teenager runs away from home and begins an adventure that totally changes his life. He was part of the underground world of homosexuals and early queer subculture. His story reminds us that we stand on the shoulders of those who came before us.
   ~ Amos Lassen, reviewsbyamoslassen.com
 

About the Author

Robert C. Steele served as a reporter and producer at various radio and television stations in Colorado and Arizona. He was a broadcaster at the Italian National Broadcasting Company (RAI Radiotelevisione Italiana) in Naples, Italy; was a reporter for Armed Forces Radio and Television along the coast of Vietnam, the Asian Western Pacific and Vicenza, Italy; was a volunteer and activist in the early gay liberation movement with the Gay Coalition of Denver and with two weekly gay radio shows in Colorado. Later, as a federal government public affairs officer, he served as a government spokesperson and managed media relations with reporters who worked for media outlets from across the USA and around the world.